Training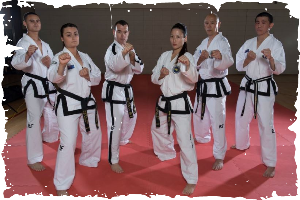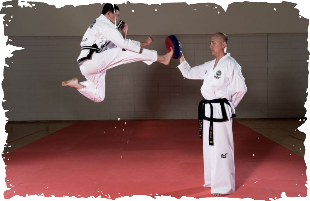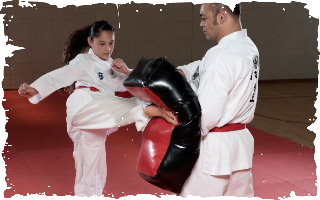 All Dragon's Spirit training sessions begin with the whole class enjoying group warm-up activities, dynamic stretching and preparation exercises for later technical training.
Smaller groups are then led by qualified Black Belt Instructors that teach their students the required syllabus for their particular grade or belt. Instructors are rotated on a 4 monthly rotation so students experience different teaching styles and gain the benefit from the huge raft of knowledge contained within the Black Belt Team.
Training received includes the following:
Fundamental Taekwon-Do Techniques as created by our Founder – General Choi Hong Hi
Patterns or Tul. Set numbers of individual movements that allow a student to master the techniques learnt and their applications.
Sparring. Utilising your techniques in a dynamic and changing situation against an opponent.
Breaking or destructions. Testing your techniques power, accuracy and focus against solid material. i.e. wood boards.
Self-Defense. Applying the learned techniques in realistic scenario and learning the psychology required to protect oneself.
The Do. The teachings and way of Taekwon-Do. Becoming a good citizen, having good morals, learning etiquette and being of service to others
The physical fitness, health, well-being and core strength of our students is very important to us at Dragon's Spirit Taekwon-Do.
We utilise during each training session a type of high intensity training or high intensity interval training called "Tabata". Tabata is named after Izumi Tabata, a Japanese scientist of physiology. He showed that high intensity interval training significantly benefited both the aerobic and anaerobic systems of the body. This dual benefit is extremely important to us in Taekwon-Do and the martial arts.
Instead of hours upon hours of exercise, Tabata can be completed in a very short time and is utilised as a key fitness activity at Dragon's Spirit.
A typical Tabata at club looks like this:
6 activities (like press-ups, side crucifix, squats, sprints, knee grab sit-up's etc.)
Each activity is done for 25 seconds with a 10 second break in-between.
The entire set of 6 activities is repeated 4 times.
Everything is done to some pumping music and everyone gets involved as best they can regardless of their individual fitness level.
Dragon's Spirit Taekwon-Do currently accepts students from 10 years and up.

Children are integrated into the normal class where they learn confidence and perseverance alongside the older students.
They are mentored closely and safety is always paramount. All Dragon's Spirit Instructors are NZ Police vetted and are excellent role models in all regards to the younger students.

The club is very family orientated and all members are treated as family regardless of age, sex, race or ability.